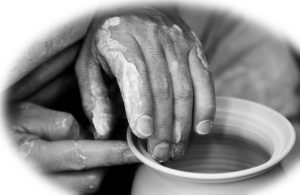 "For God, who commanded the light to shine out of darkness, hath shined in our hearts, to give the light of the knowledge of the glory of God in the face of Jesus Christ. But we have this treasure in earthen vessels, that the excellency of the power may be of God, and not of us." (2 Corinthians 4:6-7)
This is one of those passages that I keep going back to over and over. It grounds my perspective on myself, ministry, and God. Did you catch what it's saying?
The same God Who produced a fantastic burst of light with merely a word, Who created the grandeur of the stars, the power of a tiger, and the delicate beauty of a butterfly, also created…dust. Dirt. Clay. What did He choose as the substance of His crowning work of creation? "And the Lord God formed man of the dust of the ground." (Genesis 2:7)
Yes, you are an earthen vessel; a clay jar. Although your physical substance is no more valuable than dirt, God values you so highly that He gave His Son's life for yours. Even if you've accepted Christ as Savior, you remain an earthen vessel; but one filled with "the light of the knowledge of the glory of God."
So how does a living vessel, one which has received the breath of life, relate to the Master Potter? This is the subject of the latest article by Dan Lehigh: "The Potter and the Clay". I hope you'll be drawn to embrace the Master's touch.